Off-Roading: My Trail Run Debut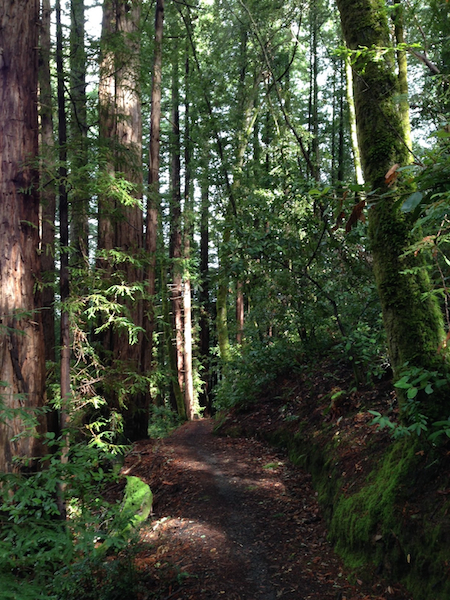 Today's Lesson:
Not all trail runs are created equal
When I signed up for Wildflower Long Course, Karin Langer advised, "Better trail run your ass off!" So I've been doing just that.
I broke the seal on trail races last month with the Woodside King's Mountain Half. It went alright, all things considered. I was just coming down with a cold, so my energy was low and my heart rate was running 10-20 bpm higher than usual (Just don't run when you're sick. It's dumb. I promise I paid the price for my presumptuousness in the week that followed...) This meant that I had to walk more than usual just to reign in my sky-rocketing heart rate. The course was a steady, gradual climb 1,880 feet up to the 6.5 mile turnaround point. After that, I just tucked my legs up underneath me and effortlessly careened back down the mountain like a winged unicorn until mile 12, where I rolled my ankle and limped the final mile on raw adrenaline, hoping to beat the onset of swelling. I finished in a respectable 1:37, which was good enough for 4th female overall.
Today's race was the King Richard Annual Half Marathon, and I figured that now that I was in good health and had my mischievous ankle swaddled, there was no way I couldn't snag a PR!
... continue reading
Posted by Kimberly 04/04/2015