About Kim Goodell . . .

I am a triathlete and coach in Boulder, Colorado, and run my own website,
EliteWaveTraining.com
.
After seven lively, crowded, high-speed years in Chicago, I moved to Madison, Wisconsin, to be closer to all the hills and open roads a cyclist could want. After a few Wisconsin winters I moved back to California, but found I missed the hills and country roads that lured me to the sport of triathlon in the first place, so two years later relocated to Colorado. This is a triathlete's paradise!
My success in triathlons led me to begin coaching others, from beginners to serious athletes. I've coached in Chicago, Madison, San Jose/Silicon Valley, and Boulder, focusing primarily on women's training programs.
I've come a long way from those teen days when I used to lie to my PE teacher to get out of running the mile, and whine to my parents about the trials and traumas of being forced to ride my bike to school. Despite the fact that I only joined the swim team because it was the one sport that didn't make me sweaty, I always did love swimming (a little secret my high school coaches would probably be interested to know...)
After spending my
college
years immersed in Theatre and Art projects, I returned to athletics in my early 20s, and was actually a little surprised to discover a passion for swimming, biking and running.
These days, people always ask which sport I like the best.
Lucky me, I love all three.
Random post from earlier blog stories . . .
IRONMAN 70.3 Santa Rosa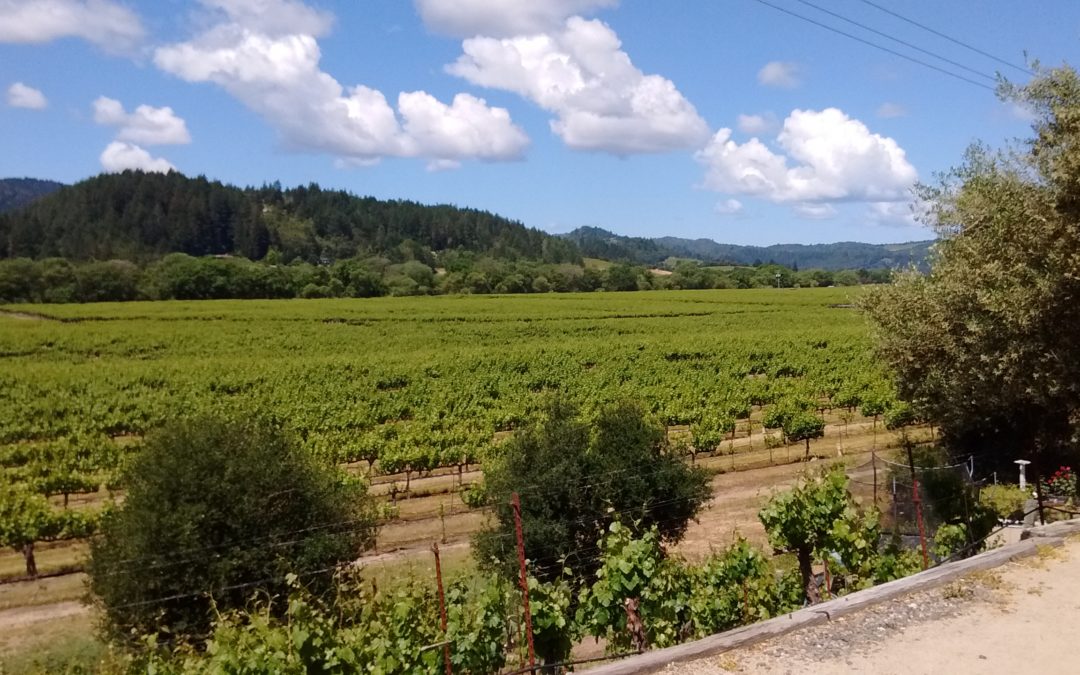 (Click here for a Google Earth flyover showing the bike course)
I wanted to ride the wave of enthusiasm coming off Oceanside for as long as possible, but Recovery Week led straight into a head cold, which then led right into the news of our upcoming relocation to Colorado, and training had to take a backseat as Brad & I scrambled to pack up our life in San Jose and replant it in Boulder. I had just barely gotten used to the altitude when I was already back on a plane to California, gearing up for the new edition of Vineman, the inaugural IM 70.3 Santa Rosa.
I was pretty sure I had resolved my bike issues by getting some adjustments to my cleats, but there was only one way to find out for sure.
My expectations for this race were lower since life had been so hectic leading into it, and I embraced the opportunity to race "for fun," approaching this as just another building block in my development as an athlete.
This turned out to be a good attitude to have when on Friday morning, as I was packing the car to head to my athlete homestay, I received the news that my host accommodations had fallen through, and "we have no other options for you, sorry."
"Again?!" Brad exclaimed in exasperation.
I had to laugh thinking back on the Airbnb host who had cancelled on me just two weeks before IM Santa Cruz two years ago. At the time, with all the pieces perfectly in place for my 2015 "A" race, this was a horrifying disaster. Hotels and accommodations for the flood of IM athletes and spectators always get snatched up many months in advance, and trying to find a place just two weeks before an Ironman event is near impossible. Two weeks! I was freaking out about 'only' two weeks notice?! Ha. ... How about two hours notice?
At first I considered exchanging our rental bean for a larger SUV or van that could accommodate some sleeping bags in the back. But as it turns out, I do have relatives who live relatively close to Santa Rosa, one of whom was awakened early Friday morning with this phone call: "Hi Garik! It's your cousin Kimberly. Would you by chance have a couch I could crash on tonight? I'll be leaving about 3am, I promise I'll try not to wake the baby ... " And would you believe it, he said yes!
Because Goodells Rule.
But everyone knows that.
The rest of Friday was a logistical maze, negotiating the crowds in downtown Santa Rosa to check in / drop off T2 gear / get thoroughly briefed on the course, then driving 30 miles north to negotiate crowds at Lake Sonoma where the T1 bike drop off was located. (Side note: Tri Bike Transport offered a bike shuttle service to save this last step, and in retrospect it DEFINITELY would've been worth the $40. I used their services to ship the bike back to Boulder after the race, and it was so delightfully convenient to just pass the bike off and continue on my way! I highly recommend taking advantage of this option any time it's available.)
After all that set up, the race seemed like the easy part.
Race morning was even more crowded, with the bulk of the 3,000 participants shuttled in on school buses, a glorious 45 minutes spent stuffed into bench seats made for humans with very short legs. Transition was clogged with long lines everywhere, at gear check, at the bathrooms, even just getting in and out. I found myself snaking through the crowds down the boat ramp and sliding into the water to join the hot pink caps of the pro wave just as the announcer said, "Ninety seconds to go, ladies ... " Without adequate time to get around to worrying about the race itself, I was never even nervous, and before I really knew what had hit me, I was swimming.
... continue reading
Posted by Kimberly 05/22/2017