About Kim Goodell . . .

I am a triathlete and coach in Boulder, Colorado, and run my own website,
EliteWaveTraining.com
.
After seven lively, crowded, high-speed years in Chicago, I moved to Madison, Wisconsin, to be closer to all the hills and open roads a cyclist could want. After a few Wisconsin winters I moved back to California, but found I missed the hills and country roads that lured me to the sport of triathlon in the first place, so two years later relocated to Colorado. This is a triathlete's paradise!
My success in triathlons led me to begin coaching others, from beginners to serious athletes. I've coached in Chicago, Madison, San Jose/Silicon Valley, and Boulder, focusing primarily on women's training programs.
I've come a long way from those teen days when I used to lie to my PE teacher to get out of running the mile, and whine to my parents about the trials and traumas of being forced to ride my bike to school. Despite the fact that I only joined the swim team because it was the one sport that didn't make me sweaty, I always did love swimming (a little secret my high school coaches would probably be interested to know...)
After spending my
college
years immersed in Theatre and Art projects, I returned to athletics in my early 20s, and was actually a little surprised to discover a passion for swimming, biking and running.
These days, people always ask which sport I like the best.
Lucky me, I love all three.
Random post from earlier blog stories . . .
Ironman 70.3 Santa Cruz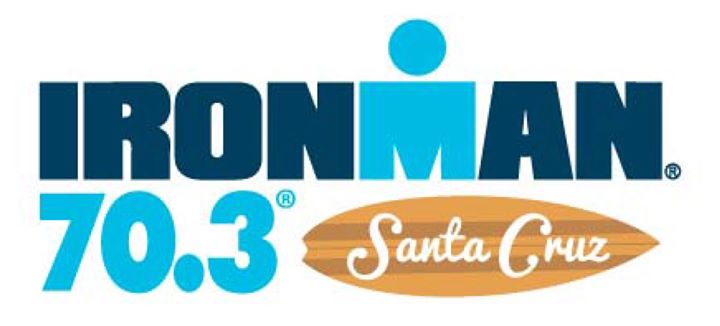 Until now I've never actually raced a Half Ironman. I've survived plenty of them, but my #1 objective was always to pace myself cautiously so I could "feel good" by the end. Even with this strategy, I've still managed to regularly crack the top 5 ... but I always feel like roadkill by the end of the race (My first 70.3 I literally cried at the finish because I was so relieved that it was finally over).
Longer distance racing is tough, and I usually hit a wall about 3-4 hours in. It could have something to do with the conditions of the particular races I've chosen, but I believe that 70.3 comes in a lot of flavors and "Easy" is never one of them.
My new experiment with Ironman 70.3 Santa Cruz was to see how fast I could actually go ... or at least how far I could get before Fast was no longer an option. I researched my competition, determined that the top finishers at Vineman 70.3 were coming back for more Half Ironman fun, and that the usual suspects were mostly in the 30-34 and 35-39 divisions. But one outlier, Laurence Delisle, only 23 years old, was a force to be reckoned with. She had claimed 2nd place at Vineman, thanks in part to a ridiculously fast swim. A former Olympic Trials swimmer, her swim split was an easy ten minutes faster than mine. TEN?!
Most of my competition would be starting at the same time as me, or just four minutes ahead. They were all likely to be out of the water before me, so after the swim, I figured I had 56 miles to try to chase them down, then the final 13 to seal the deal. Delisle was in the first wave, with a twenty minute head start, so I couldn't worry about her. I'd just have to focus on catching all the 30-somethings.
Race morning we lined up on the sand, the strongest swimmers proudly staking their claim to the front line. As I hovered behind them, it occurred to me that I really dislike being tangled in that splashing mess of 100 people all trying to swim in the same 24 inch space of water. The faster swimmers have it so good -- they avoid that mosh pit, leaving all the chaos behind as they slice stealthily forward.
The starting line had us standing pretty far back from the ocean's edge, so it was at least a 20 yard run to get to the water. I may not be the fastest swimmer, but I can run! When the starting horn blew, I slithered past the front line and took off like a bat out of hell, sprinting down the beach. I was first to hit the water. I dove beneath a wave swell and I was on my way, quickly overtaken by the leaders, but happily leaving the majority of the group to fight it out behind me.
The swim went smooth and predictably, with the added bonus find of some brightly pedicured toes to follow for the duration of the 1.2 miles. I'm not convinced drafting in the ocean waves actually provides much benefit, but at least it gave me something to focus on besides that salty, salty water.
My swim time came out pretty much the same as last month's Tri Santa Cruz, and then I was on to the familiar long transition run. But as soon as I hopped on my bike, I knew something was wrong. I could feel vibration and hear the hum of friction -- the back brake was rubbing the rim of my wheel. I couldn't bring myself to pull over to inspect it, so I pushed on, wondering how much energy I was wasting with that additional resistance. The bike course was crowded and I just kept riding, trying not to think about the misaligned brake. It wasn't until about 16 miles in that we hit a long climb and the crowd began to thin. With a little more space and a slower speed, I carefully traced my hand down the seat tube, down the brake cable*, and blindly pulled open the brake lever. *
don't try this at home
... continue reading
Posted by Kimberly 09/23/2015