About Kim Goodell . . .

I am a triathlete and coach in Boulder, Colorado, and run my own website,
EliteWaveTraining.com
.
After seven lively, crowded, high-speed years in Chicago, I moved to Madison, Wisconsin, to be closer to all the hills and open roads a cyclist could want. After a few Wisconsin winters I moved back to California, but found I missed the hills and country roads that lured me to the sport of triathlon in the first place, so two years later relocated to Colorado. This is a triathlete's paradise!
My success in triathlons led me to begin coaching others, from beginners to serious athletes. I've coached in Chicago, Madison, San Jose/Silicon Valley, and Boulder, focusing primarily on women's training programs.
I've come a long way from those teen days when I used to lie to my PE teacher to get out of running the mile, and whine to my parents about the trials and traumas of being forced to ride my bike to school. Despite the fact that I only joined the swim team because it was the one sport that didn't make me sweaty, I always did love swimming (a little secret my high school coaches would probably be interested to know...)
After spending my
college
years immersed in Theatre and Art projects, I returned to athletics in my early 20s, and was actually a little surprised to discover a passion for swimming, biking and running.
These days, people always ask which sport I like the best.
Lucky me, I love all three.
Random post from earlier blog stories . . .
---
Tales of a Swim Meet Rookie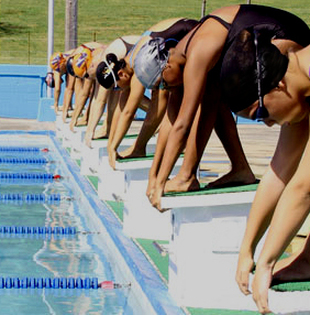 This year San Jose was the host city for the Pacific Masters Long Course Championships swim meet.
I've never competed at long course before, but with such a big event coming right to my backyard, how could I resist? It's been a good 7 years since I last showed up at any kind of Masters swim meet (representing the Chicago Smelts in Illinois in 2008, and throwing down my best 31 seconds of freestyle for a team relay, Go Smelts!)
Technically, I'm not a rookie, since I do have some 30 or 40 short course swim meets under my belt, but most of those are in the distant past, and in high school I was a very different type of athlete. I often made a point of letting my coaches know that I was only good for about a 50 yard effort ... Maybe 100 if you're lucky.
This was my high school swim team sign-up sheet. If you do the math, you can see my estimates for the distance events (200 & 500 yard swim) were pretty unambitious ...
I remember one high school meet where both teams were short, and with only 4 girls signed up for the 500 yard Freestyle, all I had to do was complete it, and I was guaranteed to score points for my team. Didn't have to be fast or pretty, but it might help my team secure a win!
I flat out refused.
Too much effort.
How's that for teamwork?
Well times have changed, and these days I'm a bit more enterprising, so I decided to Go Big or Go Home, and I signed up for the longest event they have: the 1500 meter freestyle! I'm an endurance athlete now.
What could possibly go wrong?
... continue reading
Posted by Kimberly 08/01/2015
---