About Kim Goodell . . .

I am a triathlete and coach in Boulder, Colorado, and run my own website,
EliteWaveTraining.com
.
After seven lively, crowded, high-speed years in Chicago, I moved to Madison, Wisconsin, to be closer to all the hills and open roads a cyclist could want. After a few Wisconsin winters I moved back to California, but found I missed the hills and country roads that lured me to the sport of triathlon in the first place, so two years later relocated to Colorado. This is a triathlete's paradise!
My success in triathlons led me to begin coaching others, from beginners to serious athletes. I've coached in Chicago, Madison, San Jose/Silicon Valley, and Boulder, focusing primarily on women's training programs.
I've come a long way from those teen days when I used to lie to my PE teacher to get out of running the mile, and whine to my parents about the trials and traumas of being forced to ride my bike to school. Despite the fact that I only joined the swim team because it was the one sport that didn't make me sweaty, I always did love swimming (a little secret my high school coaches would probably be interested to know...)
After spending my
college
years immersed in Theatre and Art projects, I returned to athletics in my early 20s, and was actually a little surprised to discover a passion for swimming, biking and running.
These days, people always ask which sport I like the best.
Lucky me, I love all three.
Random post from earlier blog stories . . .
IRONMAN Wisconsin, My Cinderella Story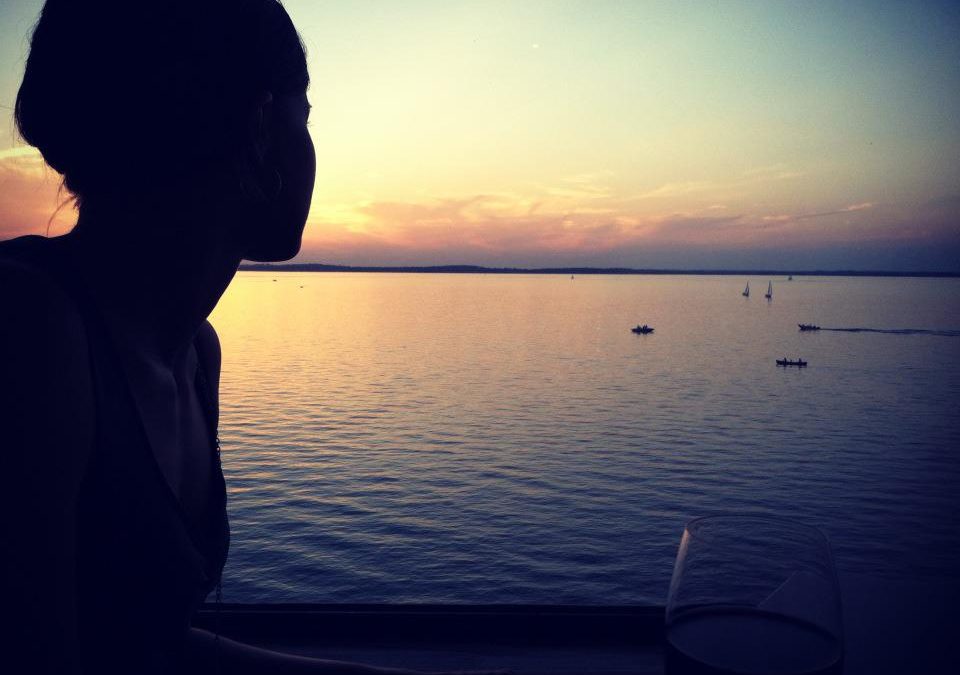 Once upon a time, in 2006, I had done a few sprint triathlons, ventured into the deep end with an Olympic distance, and then I broke my leg playing softball. My summer racing plans were shattered along with the fibula, and in my anxious boredom, I went to a Chicago Tri Club meeting. A meeting about triathlon didn't seem as interesting as actually doing one, and it was hard to imagine that there would be all that much to talk about ... But what did I have to lose?
It turned out, there was plenty to talk about, and some people out there are really into triathlon. I learned about a thing called an IMOO, which was an unconscionably long event that takes place in Madison, Wisconsin.
Wait ... People go to Wisconsin on purpose??
Yes, they do.
And some of them go there weekend after weekend to train for this IMOO.
It didn't take long for the Kool-Aid to take effect, and soon I too was joining on weekend getaways to the magical land of Madison, where the quiet farm roads and rolling hills are a Chicago cyclist's dream come true.
In September I joined the tri club's annual camping trip, centered around volunteering at the IMOO, which was actually the cow-themed nickname for IRONMAN Wisconsin (The distinction was necessary, because it wasn't the only Ironman. Apparently there was also one in Hawaii).
I volunteered on the bike course, handing off gels to passing cyclists as if their lives depended on it. I was sore for a week after darting and leaping around amongst all those bikes!
But I came back the next year, and the next, and the next. I cheered the final finishers in at 11:58pm. I handed out cups of lukewarm, flat Coke (why on earth?!) to weary competitors at mile 23 of the marathon. I rubbed sunscreen on sweaty muscles (not really as fun as it sounds). I sat at a computer typing in payment after payment from an endless line of jittery athletes who were already so sure they wanted to do this again, that they were each paying $685 a year in advance to ensure a spot in next year's Ironman (Why would you need to do it twice??)
Naturally, I fielded the same question some dozen hundred times, "What about you? When are you doing Ironman?"
I had a plethora of handy excuses, and assured myself and others it really wasn't something that interested me. People have a way of convincing themselves that they don't want the things they can never have, and so I did just that.
In addition to being a little intimidated, I simply didn't have the time, resources or support for something as massive as Ironman, and I most definitely didn't have the funds.
No, I was happy just being near the race, and being around the people who did it. I was thrilled to be able to eventually relocate from Chicago to Madison, planting myself right in the center of the triathlon world, home of the famed IMOO.
Over the years, I trained alongside, coached, and volunteered for the Ironman athletes. They regaled me with their stories, and I knew every hill and turn of the bike course. I knew where all the rowdiest aid stations were and the biggest cheering squads. I looked forward to the race every year, and craved the satisfaction and utter exhaustion of spending an entire day spectating. But by the time I left the Midwest, I had still only been on the outside looking in.
... continue reading
Posted by Kimberly 09/20/2018