About Kim Goodell . . .

I am a triathlete and coach in Boulder, Colorado, and run my own website,
EliteWaveTraining.com
.
After seven lively, crowded, high-speed years in Chicago, I moved to Madison, Wisconsin, to be closer to all the hills and open roads a cyclist could want. After a few Wisconsin winters I moved back to California, but found I missed the hills and country roads that lured me to the sport of triathlon in the first place, so two years later relocated to Colorado. This is a triathlete's paradise!
My success in triathlons led me to begin coaching others, from beginners to serious athletes. I've coached in Chicago, Madison, San Jose/Silicon Valley, and Boulder, focusing primarily on women's training programs.
I've come a long way from those teen days when I used to lie to my PE teacher to get out of running the mile, and whine to my parents about the trials and traumas of being forced to ride my bike to school. Despite the fact that I only joined the swim team because it was the one sport that didn't make me sweaty, I always did love swimming (a little secret my high school coaches would probably be interested to know...)
After spending my
college
years immersed in Theatre and Art projects, I returned to athletics in my early 20s, and was actually a little surprised to discover a passion for swimming, biking and running.
These days, people always ask which sport I like the best.
Lucky me, I love all three.
Random post from earlier blog stories . . .
Rock & Roll Half Marathon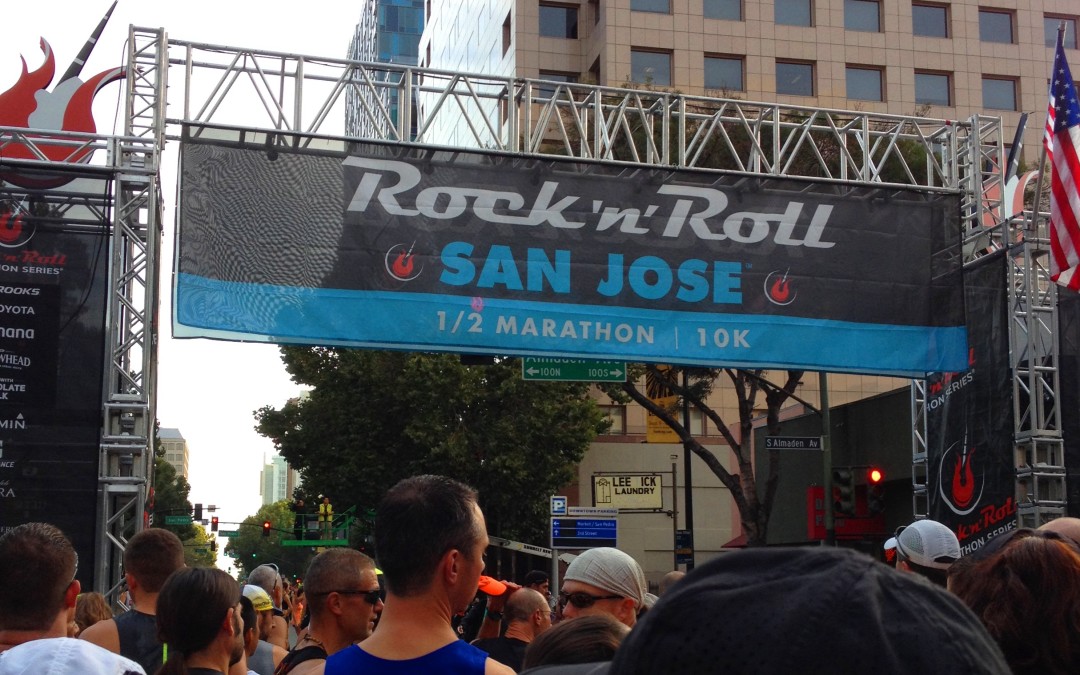 With the end of September comes the annual San Jose Rock 'n' Roll Half Marathon. I've been excited for this race both as a coach and as an athlete.
Out of town friends Meg and Jack were coming up for the race, and it would be Meg's first half marathon. I had been working with Meg on her run training for the past 5 months, and we had seen her long runs go from 2 miles to 11 miles, a thrilling transformation! This would be the culmination of half a year's work, and I looked forward to watching her cross the finish line.
Additionally, I was excited for my own run, since this is a guaranteed PR course. The weather is typically mild, the race well supported, and the route is pancake flat, save for two underpasses. I ran 1:28 at Santa Cruz just a few weeks back, surely I was destined for a 1:25 on this course that featured zero miles of sand running and a significantly shorter pre-race bike ride.
I guess this PR fantasy was rooted in the expectation that I would peak for Santa Cruz ... and then just stay there forever. But this belief undermines the concept of a Fitness Peak. A "peak," meaning you come back down the other side at some point (in my case -- about 30 minutes after completing my "A" Race).
Apparently, the universe determined (quite accurately) that I don't know when the party's over. The off season -- like a good night's sleep -- is healthy and necessary, but left to my own devices I was going to keep adding just one more! one more! one more! race to my schedule
So I got injured.
It happened just after my Santa Cruz finish. I pushed hard at that race, and certainly had a collection of noteworthy aches and pains afterwards. Curiously, the knees were not included in that list. Nor have they ever been during racing or training. However, I sustained a fresh new knee injury while being interviewed for a post-race massage. The therapist asked me to straighten my leg, which I fearlessly complied with, and BAM! Instant knee injury.
What makes this all even more mysterious is that since the traumatic massage interview, I have discovered that I can still bike, climb stairs, jump, barbell squat, dart side-to-side in a game of puppy keep-away, and in fact I can actually jog and run. I can straighten my legs, and I was even interviewed for another massage without incident. There is just one specific movement that my knee refuses to allow:
Running fast.
Unfortunately, this was the single activity I had planned to engage in for Rock 'n' Roll.
... continue reading
Posted by Kimberly 10/04/2015